I have another museum paper due for my art history class, so this time I decided to go to the LACMA.
IT'S SO HUGE. I HAD NO IDEA.
I mean, the main reason I went to the LACMA was because I heard there was a Kehinde Wiley piece on display, and I've sort of been stalking him (ARTISTICALLY, not literally)
ever since I saw one of his piecesat the Seattle Art Museum
, but that actually ended up being one of the less interesting aspects of the trip (possibly because this piece was soccer-themed).
First off, when I went last week, it was Iranian New Year. Which I had no idea LACMA would throw a celebration for, but there was music and food and a TON of (attractive, well-dressed) people. So that was exciting, except I hate crowds and the parking was about as smooth as it is at school.
Second, they have a bunch of stuff from literally all over the world. Like, the first building I walked into had a Polynesian art/artifact section. And then my friend and I went directly to the Latin America building, which had everything from ancient Mayan weapons to some of Diego Rivera's and Frieda Kahlo's pieces on display.
That section also had this GIANT piece (it took up an entire wall) called "Burn, Baby, Burn"
which the artist had made in response to the Watts Riots. Super cool.
They also had a section for South/Southeast/Islamic art. Which is amazing to me, because usually when museums have anything Middle Eastern, it has something to do with Mesopotamia-- and anything they have from other parts of Asia is usually Chinese or Japanese. And while I'm fascinated by the art/artifacts from those places as well, it's always nice to see something new.
Anyway,
this
is the first thing my friend and I saw when we arrived on that floor. So naturally we stared at it for about fifteen minutes and gushed to one of the docents about it, who proceeded to tell us all about the artist-- Hassan Hajjaj-- and how she had initially been so excited by that piece that she spent about two hours researching Hajjaj's work online.
The rest of that floor was absolutely amazing as well. They had Cambodian statues, Indian daggers, pages from the Quran, and a lot of tapestries. Everything they had on display from Iran-- usually everyday items, or things like doors and tile flooring-- was beautiful and ornately decorated. And then they had this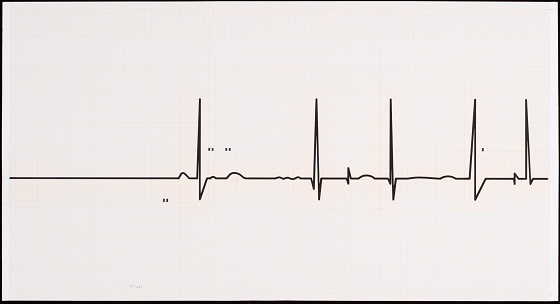 which I thought was ingenious.
So what I'm saying is, go to the LACMA. It's completely worth the admission fee.
Stay classy,
Caitlin.